Arella Pause - Menopause Support Supplement
Regular price

Sale price

£23.99
The UK's first single-serve liquid menopause support supplement!
Specially formulated nutritional support for before, during, and after the menopause. The team at Arella are confident that Arella Pause can help women feel better.
Menopause is inevitable for every woman. Struggling through intense menopause symptoms is not. If you are experiencing symptoms, it's a clear signal that your hormones need support during this transition. 
Here at Arella, we believe that the key to a 'successful' menopause is to balance your hormones and eliminate most, if not all, of your symptoms with natural support. There's a lot of science behind this approach. Menopause is a time of change, and it is totally possible to make it through this transition feeling stronger, vibrant and in control of your health.
From only £1.57 per day, less than a takeout coffee! 
HOW TO USE

Take one sachet at your preferred time, daily. (No need to mix with water). We recommend taking it at the same time each day, so that you don't forget. Remember, consistency is key, Arella Pause - Menopause Support must be taken daily to achieve maximum benefits. 
FULL INGREDIENTS

Ingredients

Water, Black Cohosh extract (Cimicifuga racemosa), Wild Yam extract (Dioscorea villosa), Chasteberry extract (agnus castus), Eleutherococcus senticosus extract, Passiflora extract, Vitamin D3, D-alpha tocopherol (Vitamin E), Sweeteners (Liquid fructose 70%), Acidulant (Citric acid, E-330), Preservatives (Potassium sorbate E-202, Sodium benzoate E211), Fruits of the forest flavour, Thickener (Xhantan gum, E-415).

Free from Soy, Wheat and Gluten.
Dairy Free

Suitable for Vegans or Vegetarians
DELIVERY

ALL orders come with FREE UK Delivery.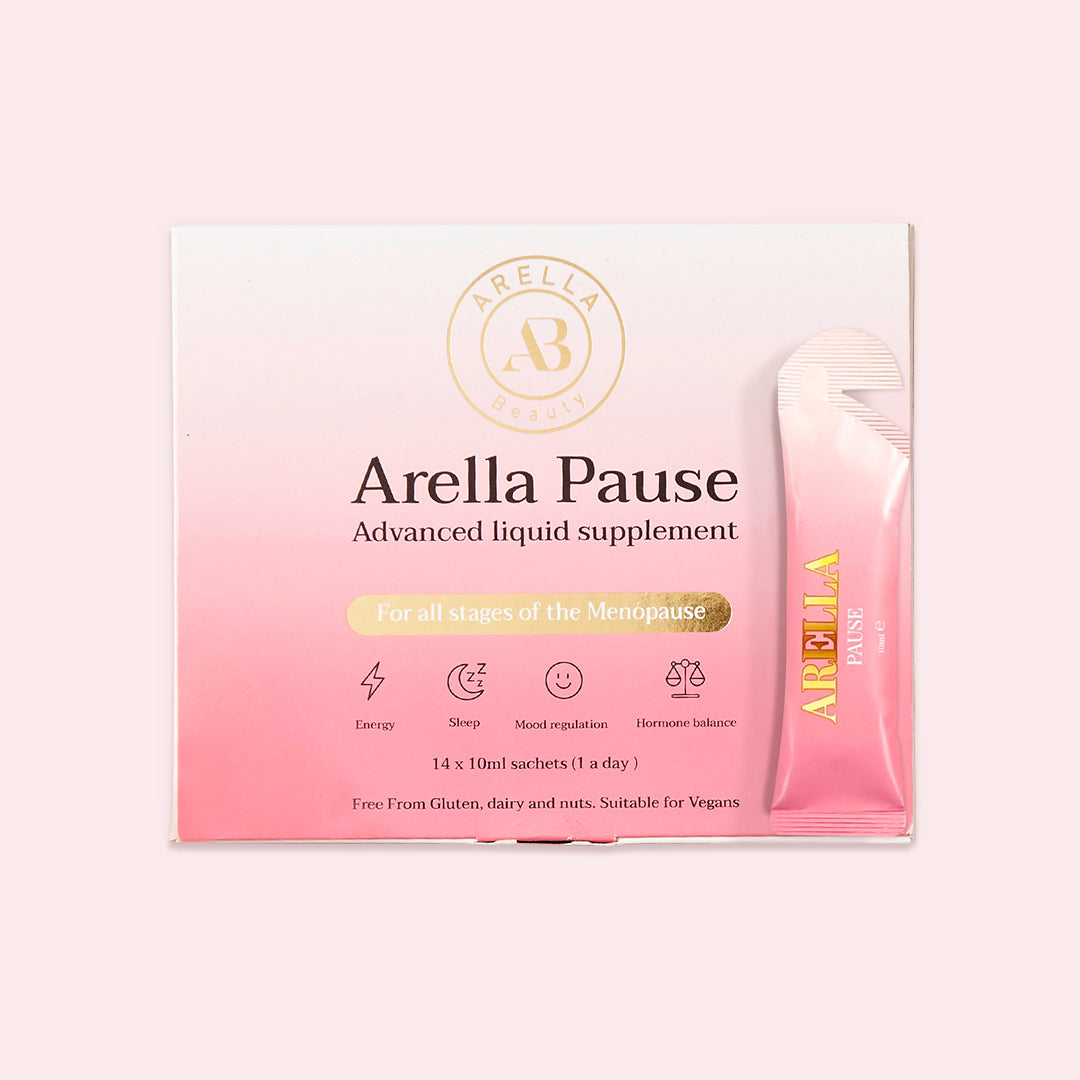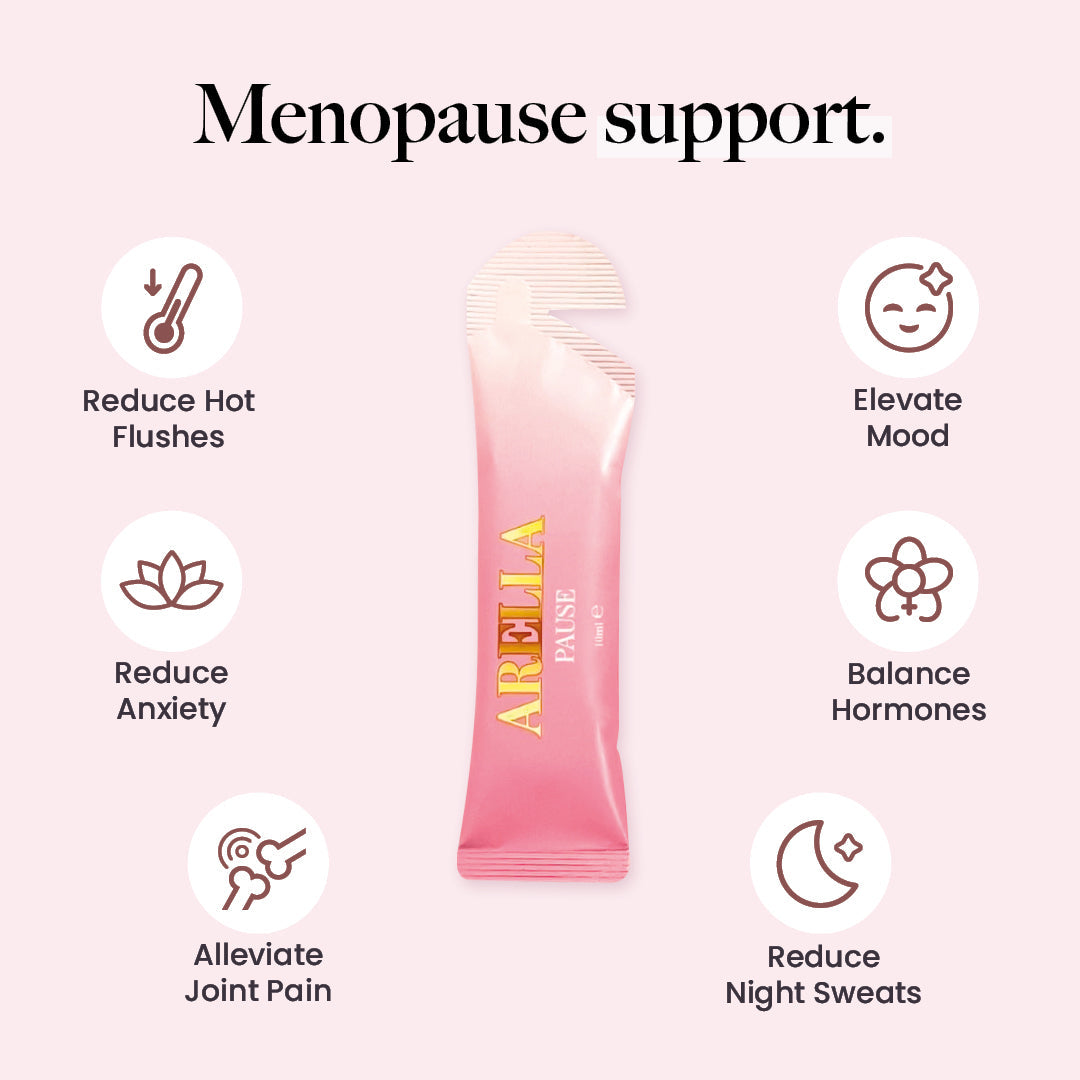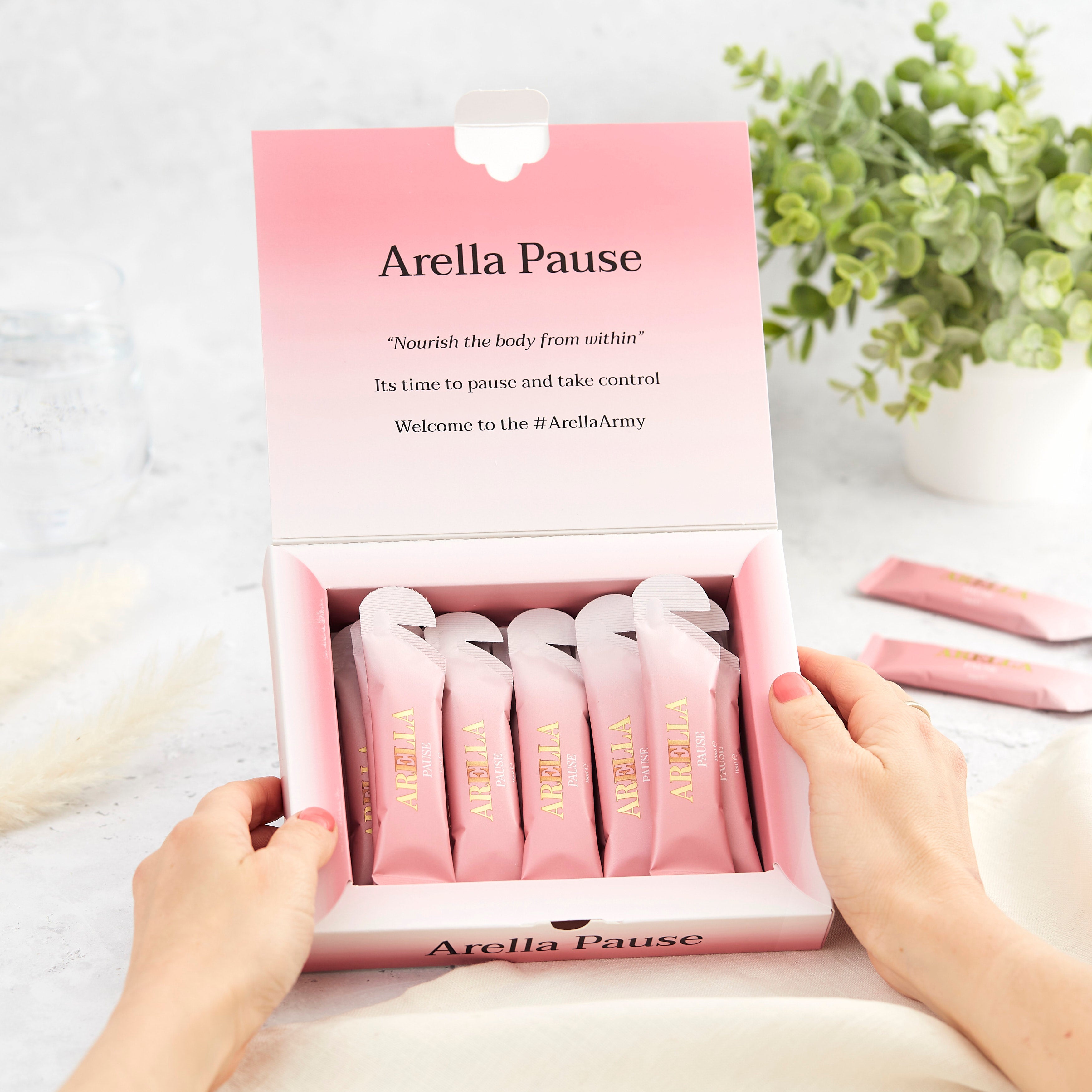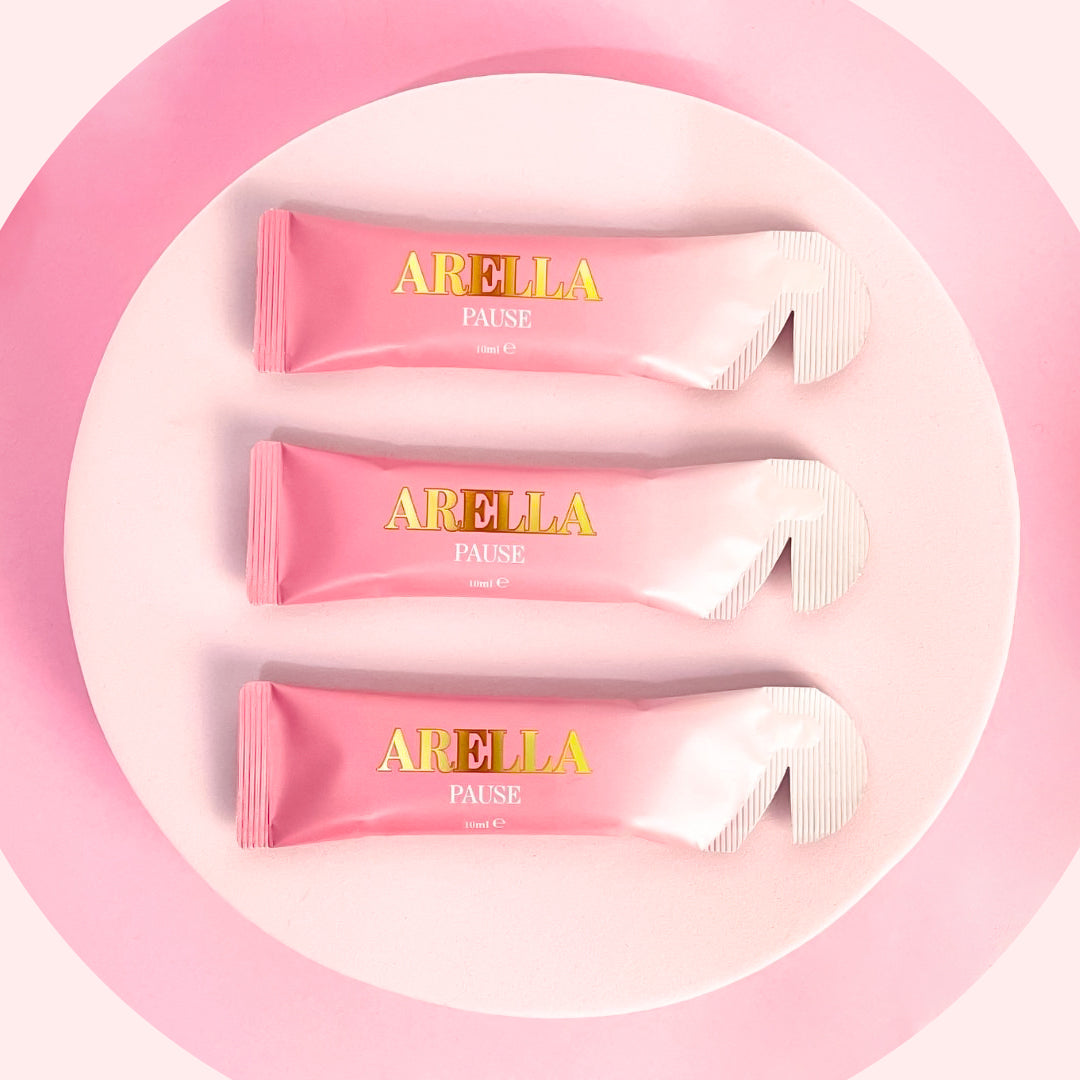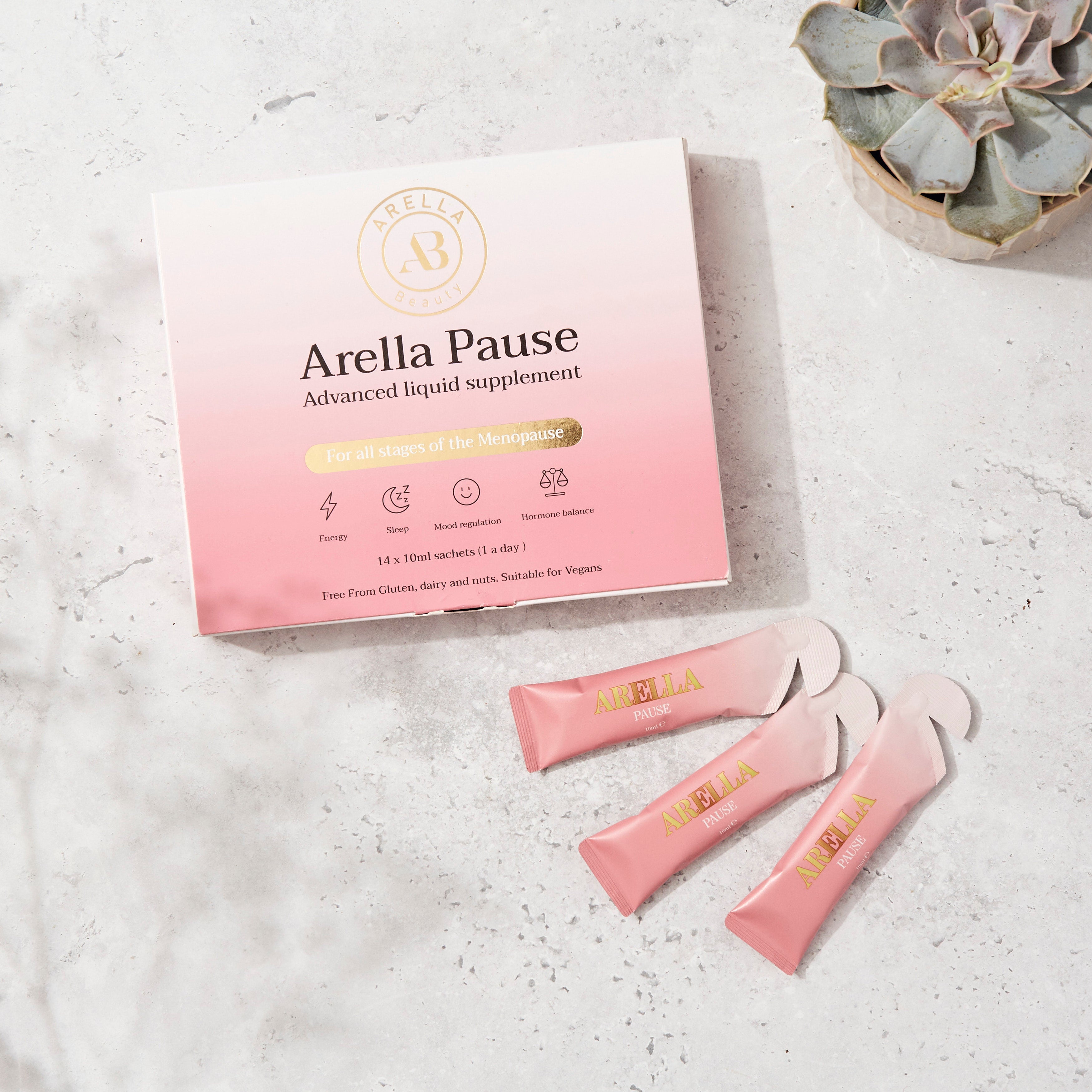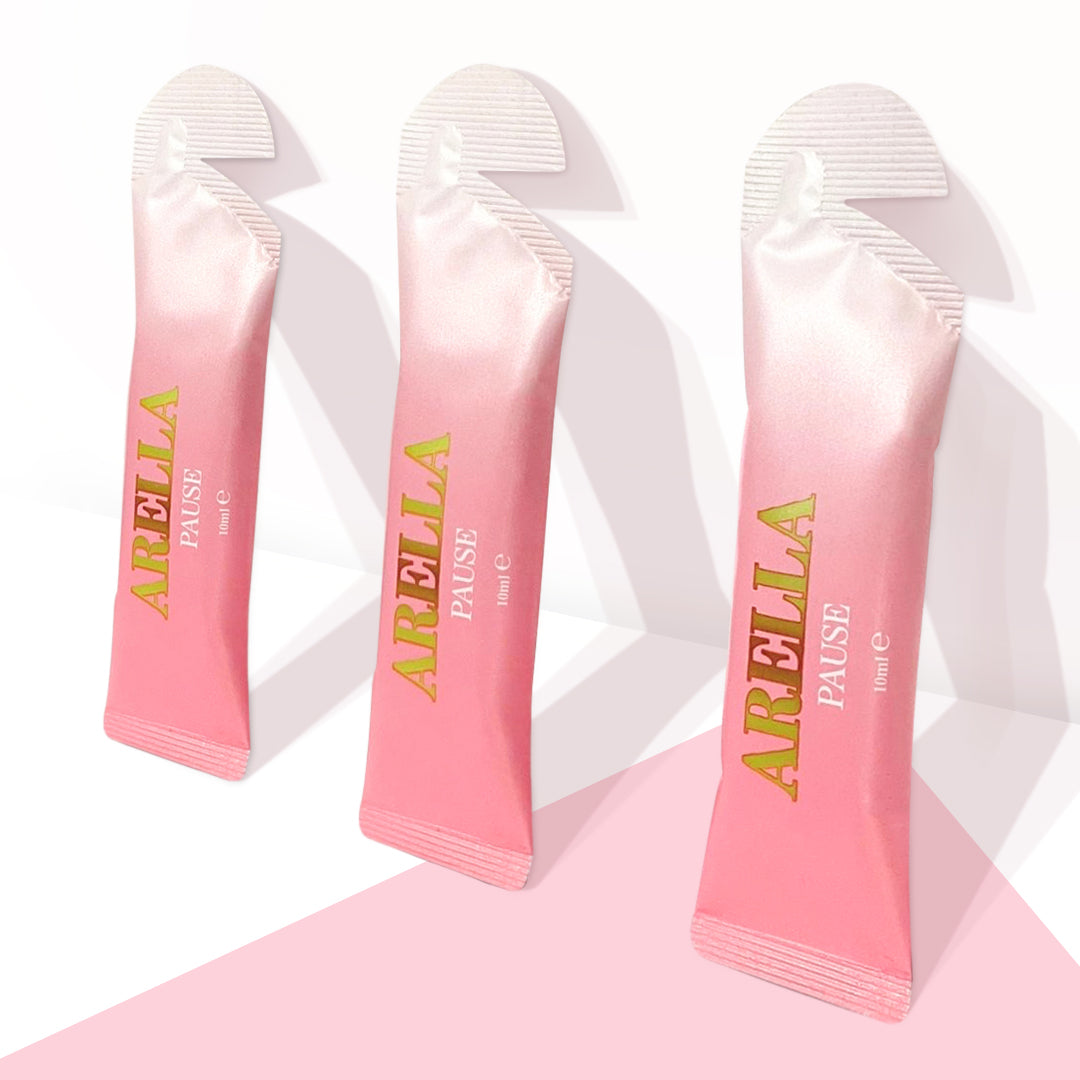 Real Customers, Real Results
Discover the many amazing benefits Arella Pause - Menopause Support has had on real customers. From improved mood, reduced stress levels, reduced hot flushes, reduced night sweats and more!
Key Ingredients
Arella Pause contains carefully selected, science backed ingredients designed to enable optimum absorption and bioactivity of each nutrient in the body.
Black Cohosh

Black Cohosh is commonly used to combat symptoms of menopause, premenstrual syndrome, painful menstruation and functions as a phytoestrogen. It is a plant-based compound that mimics the action of the hormone oestrogen.

Extensive studies have shown that Black Cohosh alleviates symptoms of the menopause such as hot flushes, anxiety, mood swings, night sweats, vaginal dryness and vertigo. Black Cohosh has far-reaching effects and reduces inflammation, boosts the feel-good neurotransmitters and regulates the menstrual cycle.
Wild Yam Extract

Wild Yam Root contains a chemical called Diosgenin, a phytoestrogen; a plant substance that has weak oestrogen-type effects. According to studies, these oestrogen-like compounds are proven to help ease menopausal symptoms such as hot flushes, mood changes and insomnia among having anti-inflammatory effects.

Wild Yam is traditionally used by herbalists to support female health through various stages of life.

It is also believed that Wild Yam can relieve the symptoms of PCOS, acting as a natural hormone balance treatment.
Chasteberry Extract

Chasteberry extract reduces the effect of hot flushes, night sweats and improves your overall mood. It contains phytoestrogens, which is a natural compound that mimics oestrogen (the hormone that your ovaries stops producing after menopause).

Acting as an adaptogen to stabilise the body's stress response, Chasteberry helps the pituitary gland to rebalance hormones during all three stages of menopause.   

By helping to slow down excessive hormone secretion, as well as boosting the production of insufficient hormones, Chasteberry is known to significantly help maintain healthy hormone levels. Research on the hormone-balancing abilities shows that it notably reduces menopausal symptoms such as pelvic discomfort, breast tenderness, mood swings and interrupted sleep.
Siberian Ginseng

Research has shown that Siberian Ginseng can significantly reduce unwanted menopausal symptoms, such as hot flushes and night sweats, reduces the effects of stress and enhances the immune system.

By boosting the body's resistance to mental and physical stressors, it also helps to reduce brain fog, improve focus and supports memory and concentration.

Siberian Ginseng also helps to boost the effects of your own oestrogen and is therefore very beneficial for Peri- and Post-menopausal women.
Passionflora Extract

Passionflower is a well-known botanical used in the treatment of anxiety and insomnia related to nervousness, bringing peace to the nervous system, helping you to function from a place of calmness whilst regaining a sense of confidence and control, promoting mental clarity.

Many studies have proven that Passionflower can be very useful in treating menopausal symptom's such as hot flushes, night sweats, insomnia, creeping feeling on the skin, muscular and joint related pain, depression and irritability. 
Vitamin E

Vitamin E is a powerful antioxidant that can support women who are suffering with a variety of menopausal symptoms through the menopausal transition.

This important vitamin decreases inflammation in the body and helps fight cell-damaging free radicals. Not only does it help with decreasing the occurrence of hot flushes, it also can decrease your likelihood of experiencing depression, heart disease, oxidative stress, and weight gain, all of which are issues that can be common before, during and after the menopause.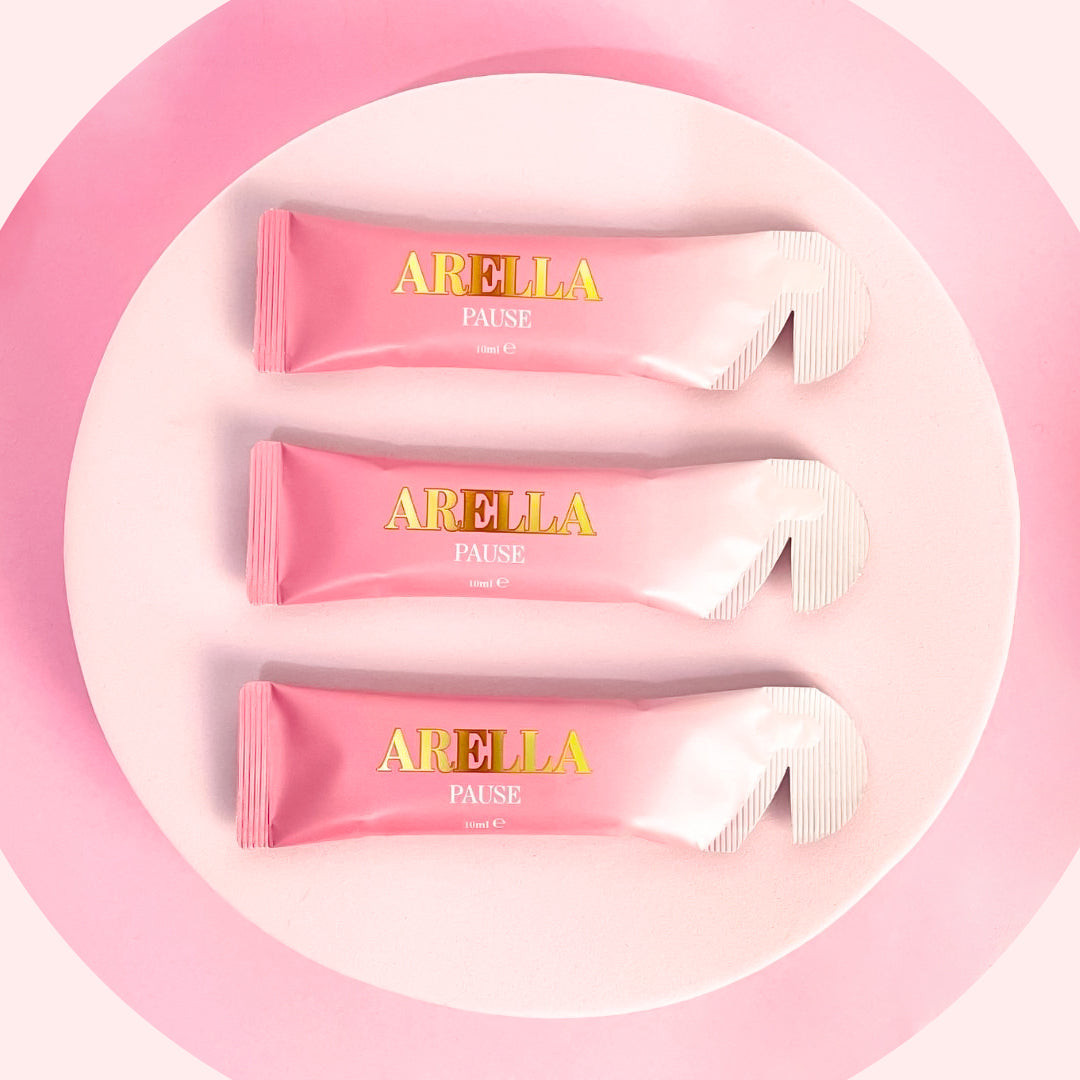 Why Arella Pause?
It's a natural time in every woman's life, but the menopause can feel uncertain as your body, hormones and moods fluctuate.
There are many ways to combat menopause symptoms, from lifestyle changes to hormone therapy and vitamins. At Arella Beauty, we've developed a unique supplement to offer targeted support as your body changes.
Our Arella Pause Menopause Support Supplement is engineered using proven ingredients to help you feel energised and focussed, reduce stress levels and improve your mood. With all the nutrients you need in a single daily sachet, our liquid supplement helps you get back on track and live life to the full.